EasyComfort: for maximum comfort. No need to adjust the iron's temperature any more.
MotorSteam: steam penetrates deeper in to the fabric every time thanks to the integrated motor
i-Temp Advanced: the optimum combination of temperature and steam — so you can iron all ironable fabrics quickly and safely
SensorSteam: touch-operated auto switch-on and shut-off for the appliance and the motor-generated permanent steam.
Descale with TDZ1101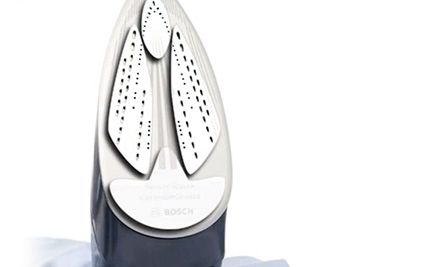 AdvancedSteam System: steam for professionals.
Leave nothing to chance when it comes to ironing. You can rely on our innovative AdvancedSteam System with an optimal and powerful steam output rate. It allows a targeted distribution of the steam over the fabric and deeper penetration into the fabric. How? Using a refined system and the interaction of steam channels, outlet wholes and guides. This targeted steam makes ironing easier and also brings you to your goal faster: a pile of ironed laundry.
CeraniumGlissée: glides superbly.
The tough and durable soleplate allows to glide particularly freely over all fabrics. The optimal steam distribution ensures perfect ironing results thanks to the intelligent and innovative arrangement of the steam channels. The patented Bosch 3-phase design is also typical for this soleplate. Look forward to exceptionally smooth fabrics.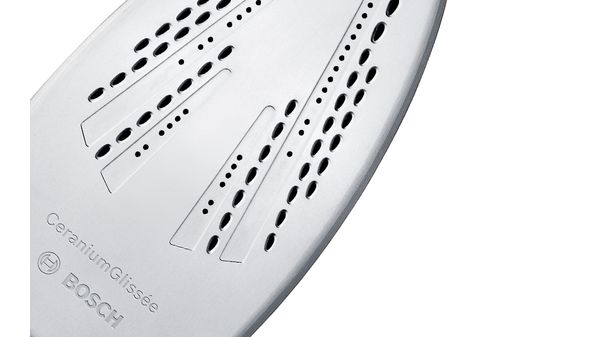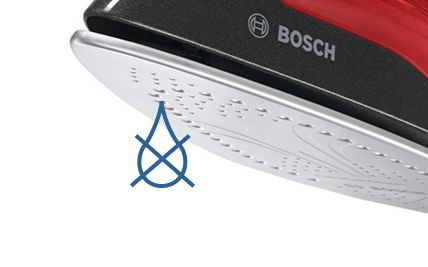 DripStop: no risk of water marks.
The DripStop function is a built-in control in the iron, which independently controls the temperature of the water flow. This prevents water droplets and unsightly water marks on fabrics. After all, there is nothing more annoying than having to put a garment back in the washing basket instead of being able to place it on the pile of ironed laundry. DripStop also works even at low temperatures.